Founded in 1982, Demaree Inflatable Boats, Inc., manufactures industrial grade inflatable boats and related products such as:
Inflatable Workboats
Commercial Whitewater
Boats
Military Boats
Pontoons
Rescue Craft
…and related products such as deep sea lifting bags to exacting specifications.
We are located in the beautiful town of Friendsville Maryland. All of our materials meet top-quality U.S. military specifications. After assembly, the completed product is vulcanized in our dry heat autoclave and the result is an integral, industrial-grade boat.
Demaree Inflatable Boats specializes in custom products made to your own requirements.
What kind of background does it take to establish and operate a business that earns its "bread and butter" by building customized inflatable boats and related products?
To succeed in this type of business, you need company leaders who possess a rare combination of skills, an entrepreneurial spirit, extensive product knowledge, market insight, and a good old-fashioned work ethic.
Through their varied backgrounds, Dave and Mimi Demaree are uniquely qualified to meet this challenge, and together with an outstanding staff of professional boat builders and technicians, continue to build the finest industrial-grade inflatable boats on the market today.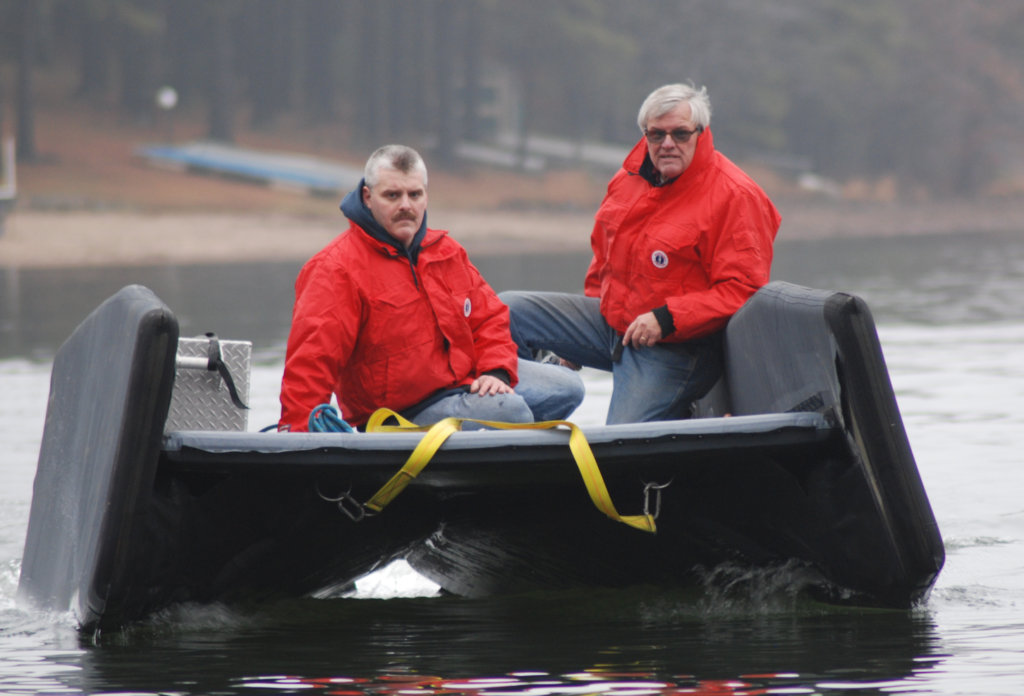 As a young boy growing up in Aberdeen, Maryland, Dave Demaree set his sights on four long-term goals.
Get a 4-wheel drive vehicle
Buy a Harley-Davidson motorcycle
Get a canoe and learn to paddle on whitewater
Date a lot of gorgeous women and wait until after age 30 to get married.
We can gladly report that Dave achieved all of his youthful goals. Today, Dave is still in the business of setting and achieving lofty goals, but he gets more pleasure out of building and selling high quality boats than driving his 4-wheel drive down a muddy road.
As President, head boat designer, and head salesman of Demaree Inflatable Boats, Dave draws on a reservoir of experience and skills that he has accumulated from his diverse background. His experience with canoeing dates back to 1956, where he first learned the joys of paddling an open canoe at a Boy Scout camp in Indiana. Later, as a teenager growing up in Maryland, Dave transitioned from lakes to paddling some of the toughest whitewater streams in the eastern United States. In 1970, he took the first of what was to become many trips down the Colorado River through the Grand Canyon.
For six years, Dave worked as an engineering technician at Aberdeen Proving Ground, a federal testing ground for military vehicles and weapons. He learned a great deal about testing procedures and quality control while evaluating the battle-worthiness of tanks and artillery under the guidance of a senior engineer.
In 1973, Dave began a three-year stint as manager of Wilderness Voyageurs Outfitters in Ohiopyle, Pennsylvania. As manager, Dave got his "feet wet" in the outdoor recreational industry by selling canoes, kayaks, camping equipment, and related gear to outdoor enthusiasts. When needed, he also worked both as a whitewater raft guide and a canoe instructor on the Youghiogheny River.
For many years, Dave competed in both whitewater slalom and downriver canoe racing. In 1978, Dave teamed up with Payson Kennedy, founder of the Nantahala Outdoor Center, to win the National Two-man Open Canoe Slalom Championships.
Since Wilderness Voyageurs was a distributor for Rubber Fabricators, a manufacturer of inflatable military and whitewater boats, Dave began selling boats to commercial whitewater outfitters. During that time, Dave became convinced of the superior durability of vulcanized neoprene boats over the "cold lay-up" models produced by most other manufacturers.
In 1976, one year after B.F. Goodrich bought out Rubber Fabricators, Dave accepted the position as national sales representative for Rubber Crafters, Inc., (RCI) a Grantsville, W.V, based manufacturer of inflatable boats. Rubber Crafters was established by former executives from Rubber Fabricators. Dave took this opportunity to learn all that he could about the design and production of commercial grade inflatable boats, waterproof bags, and other items. During this time, Dave traveled the country and established relationships with many of the top commercial whitewater outfitters.
After a few years, Dave was selling boats faster than RCI could produce them. The company was making a major expansion into the military boat market and therefore could not keep up with Dave's growing sales in the commercial whitewater area.
In 1982, Dave took a huge step by teaming with his older brother Chuck to establish Demaree Inflatable Boats (dib) in Friendsville, Maryland. In 1983, their younger brother Dan Demaree joined dib as the first quality control manager. For a few years, the Demaree brothers had the rare opportunity to build the company together, but eventually, Chuck and Dan each left to pursue other interests.
From that point on, Dave and Mimi Demaree have spearheaded the growth of Demaree Inflatable Boats together, and have expanded the company's presence into the commercial workboat and military boat markets, while maintaining a strong presence in the commercial rafting industry.
Dave is widely recognized as one of the world's leading authorities on the history and manufacturing processes of inflatable boats. He has designed and built boats and accessories that are in use by companies all over the world. To illustrate his history in the industry, Dave has attended every national show of America Outdoors since it formed in 1990. He has also attended every national show of the two organizations that combined to form America Outdoors, namely: Eastern Professional River Outfitters Association (EPRO), and the Western River Guides Association (WRGA), since October 1976.
Although he isn't coaxed to the podium very often, Dave is an entertaining speaker who can talk with authority on topics such as:
The History of Commercial River Running in the Eastern United States
Five Key Elements of Custom Boat Design
Matching Tubes to Frames: Effective Design of Naval Warfare RHIBS
CSM, Neoprene, Urethane, or PVC: Picking the Right Material for Your Industrial or Military Application
So what does Dave do in his free time? You guessed it. Each summer, Dave guides a raft for one of several commercial outfitters down the Colorado River through the Grand Canyon. Hey. What were you expecting… ice hockey?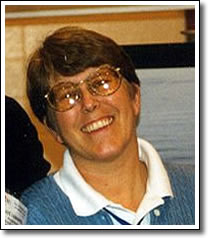 Mimi Demaree oversees the "nuts and bolts" of everyday business and financial operations at Demaree Inflatable Boats including accounting, payroll, shipping, marketing, and whatever else is needed. Because of her broad and varied background, Mimi is uniquely qualified to handle the everyday challenges that come hand-in-hand with running a growing business. Her greatest strength is her ability to keep track of numerous details and to prioritize tasks.
Mimi got involved in whitewater rafting and kayaking in Maryland around 1969 and met Dave the same year. Then in 1970, as members and advisors to Ellicott City's Explorer Post 757, Mimi and Dave took their first trip down the Colorado River with Hatch River Expeditions.
Once bitten by the whitewater bug, Mimi began paddling her kayak down even more challenging rivers, quickly advancing to the expert level. In a time when most raft guides were men, Mimi broke new ground by guiding for commercial raft outfitters on various rivers including the Cheat, New, and Gauley in West Virginia; the Youghiogheny in Pennsylvania; and the Salmon in Idaho.
After earning a Bachelor of Arts degree in Botany from Ohio-Weslyan College, Mimi gathered a significant amount of business experience while working for organizations such as H& R Block, the President's Council on Environmental Quality, and the Alaska Natural Gas Transportation System (Federal Inspector's Office).
Since she had already decided that she wasn't cut out to be a career bureaucrat living in Washington D.C, Mimi welcomed the opportunity to transfer to Alaska to work on permit issues connected with the Alaska pipeline. During this time, the long and intermittent relationship with Dave began to show signs of getting serious. Mimi never made the final move to Alaska, but she did get to relocate to rural America when she married Dave in 1981. Naturally, they were married outdoors on a platform overlooking Ohiopyle Falls on the Youghiogheny River.
In the 1980's Mimi and Dave both played an instrumental role in bringing the Whitewater Slalom World Championships to the United States for the first time. After being approached by world champion canoeists, Jon Lugbill and Davey Hearn, for assistance, Mimi and Dave enlisted the aide of the Garrett County Economic Development Director. The resulting committee developed the proposal that eventually won the bid to host the 1989 World Slalom Championships on the Savage River in Maryland.
Today, Mimi is active in the Garrett County Economic Development. As a member of the Infrastructure Committee, Mimi works to help plan for the development and maintenance of the highways and the airport in Garrett County.